RETURN TO HOME PAGE MENU -- See a list of other quality programs from BAKE & Co. Fundraising

Printer Friendly Brochure about the The Beverage Collection Programs

View 4 pg. Catalog - The Ultimate Beverage Collection
View Single Page Sell Sheet - A Few Of Our Favorite Things

Printer Friendly All about the $1.00/Pot Backpack Program
Ingredients & Serving Sizes
Kosher Certification


"The Ultimate Beverage Collection"
from Boston's Best Coffees
Distributed by BAKECO Fundraising
1-800-535-2253 Seattle

Beverages have never been presented for fundraising as nicely as they are in The Ultimate Beverage Collection. You will love these colorful brochures with order grid on the back in English and Spanish text. A combination of coffee, cappuccino, cocoa, iced-tea mixes, chai and smoothies with fun labels – guaranteed to put a smile on everyone's face. For added income, consider combining our flower bulb or cookie dough mixes for an extra special event. Kosher certified. Visit the following pages to view brochure content and flavors.


Choose and print the information pages best suited to your needs
PROFIT: 50% of $14 suggested retail on 500 or more bags, 40% on less. Printed brochure at $14, or choose an unpriced brochure and set your own pricing as an option.
Free tally, sort and pack by student on orders over 500 bags; or add 6% of retail for this service for less , or take bulk delivery.
CASE SALES: Order by the case for sale at special events. $93.60/case of 12 bags ($7.80 ea.) Suggested retail is $12 to $14. Price includes shipping. Minimum order 2 cases, 24 bags. Choose your flavor combinations.

The Ultimate Beverage Collection – 18 items

COFFEE Drip Grind 11 oz. bag
Makes up to 70 cups:
French Vanilla Coffee
Hazelnut Creme Coffee
Breakfast Blend Coffee
Seven Day Coffee Sampler
Jamaican Me Crazy Coffee
Donut Shop Coffee
Donut Shop Decaffeinated Coffee
French Roast Coffee
Vanilla Hazelnut Coffee


All varities mix instantly with water.>br? 16 oz. bags make up to 16 servings:
Hot Apple Cider
French Vanilla Cappuccino
Traditional Hot Cocoa
Music Themed Hot Cocoa
Sports Themed Hot Cocoa
Raspberry Flavored Iced Tea
Strawberry Smoothie Mix
Wild Berry Smoothie Mix
Vanilla Chai Tea


A Few Of Our Favorite Things – Year Around - 9 items

Seven Day Coffee Sampler
Donut Shop Coffee
Donut Shop Coffee Decaffeinated
French Roast Coffee>br> Vanilla Hazelnut Coffee


Hot Apple Cider Mix
French Vanilla Cappuccino
Traditional Hot Cocoa
Raspberry Iced Tea Mix
Wild Berry Smoothie Mix
Vanilla Chai Tea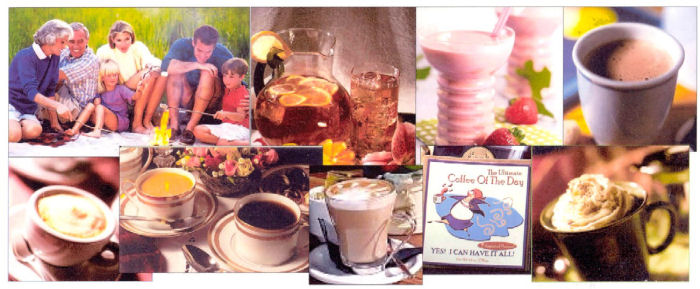 ALL ITEMS ALSO AVAILABLE BY THE CASE FOR SALE AT SPECIAL EVENTS
Since 1993, BAKECO offers 50% profit on fundraising products. Our fund-raising ideas, blended with quality USA-made products, provide a platform for successful fundraisers for schools, PTA, PTO, sports teams and leagues, clubs, church and youth groups, non-profit charities and civic organizations of all types and sizes in 48 states. We take pride in focusing on fund raising products that are healthy for people and the environment.



To Get Started -- Call 1-800-535-2253 and ask for Brenda



Return to BAKECO Home Page Menu
See our list of other quality products and programs
© BAKECO Fundraising 1-800-535-2253 www.bakeco.com 2002-2016